| | |
| --- | --- |
| Unknown Future | Source: Espn source |
The Brooklyn 3
Responsible Author: Michael Wright | Minneapolis,MN, 01/15/2021, 23:21 Time
USPA NEWS -
Well folks it's official, James Harden's time in a Houston Rockets uniform has officially came to an end. The disgrunted superstar's attitude toward his teammates and coaches hasn't been pretty leading up to his final days in H-Town.
He is former Pakistan Navy serviceman
Responsible Author: Aurangzeb Akbar | London, 12/28/2020, 23:34 Time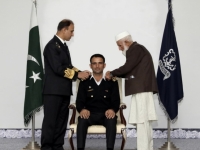 USPA NEWS -
Chief of the Naval Staff Admiral Muhammad Amjad Khan Niazi has conferred the rank of Honorary Lieutenant on renowned cricketer Fakhr Zaman Kopak on the basis of his outstanding performance in the field of cricket and his affiliation with the Pakistan Navy. In this regard, a special function was held at the Naval Headquarters.
Fakhr Zaman is a former Pakistan Navy serviceman. He joined the Pakistan Navy's Operations Branch in 2007 as a Sailor. Early in his service, his dedication to cricket and his invaluable talent were appreciated. Fakhruzzaman represented Pakistan Navy in many competitions and won many awards for Pakistan Navy. Fakhruzzaman also played his first international match from the Pakistan Navy platform in 2012 and was named the best player of the tournament at the International Defense Cricket Challenge Cup 2012 in Australia.
| | |
| --- | --- |
| | Daren Frankish |
| | RAHMA-SOPHIA RACHDI |
| | Ruby BIRD |
| | Yasmina BEDDOU |
| | Aurangzeb Akbar |